Tag Archives:
science
Although notoriously intolerant of tissue damage, the beautiful Heliofungia actiniformis is an exciting addition to any reef display. Willing to test this coral's vitality, I made an attempt to propagate one. 1. The Heliofungia was forced to retract by hand. This reduces contact between the propagating tool and the coral's sensitive tissue, minimizing damage and stress on the coral.
2. To reduce the amount of heat transferred to the polyp, the Heliofungia was cut in half using a diamond band saw. This saw uses a drip mechanism to keep the subject cool. The cut was made perpendicular to its mouth, which enables the mouth to recover more rapidly, allowing the coral to feed.… More:
Although corals are considered one of the earliest, most primitive animal groups on the planet, the stony corals that grace our reef aquariums with color and vibrance actually arose later than some of us have been led to believe. It is widely accepted that our ocean's corals have been derived from sponge-like ancestors; however, the first "corals" to be derived from these sponge-like ancestors are not the ones we see in our reef aquariums. Roughly 500 million years ago in the Ordovician period (see table to the left), two orders of stony corals arose. These groups are known as Rugosa and Tabulata. Soon after these two groups of corals arose from their presumably spongy ancestors, they attained prominence in our oceans and helped construct reefs with the help of their stable, calcite-based skeletons. These corals maintained their oceanic dominance until the mysterious Permian – Triassic extinction, which is thought to have been responsible for their demise. If these two groups abruptly became extinct, leaving our planet virtually devoid of corals, how do living coral species exist on earth today? Several millions of years into the Triassic period, another group of corals arose. Since Tabulata and Rugosa are thought to have already become extinct at this point, many paleobiologists hypothesize that this new group of corals had not been derived from one of these extinct groups, but came from sponge-like ancestors, just as the two extinct groups did during the Ordovician period. This hypothesis; however, has been countered by recent findings of fossil corals that host features of both Rugosa and the new group – Scleractinia. This suggests the possibility that Scleractinians – the corals that populate our planet today, may have been derived from ancient Rugosa corals.… More:

The fate of coral reefs worldwide is now a well-publicized, front-page, six o'clock news crisis. In fact, three marine scientists just published a landmark paper that leads with this daunting proclamation: "Coral reefs are at the brink of a global, system-wide collapse." Lead author of the paper, Dr. Andrew L. Rhyne: "Ending cyanide fishing and effective trade monitoring are necessary and critical short-term gains for the marine aquarium trade." Ending cyanide fishing and effective trade monitoring are necessary and critical short-term gains. For those involved in the keeping of marine aquaria, it is logical—perhaps even imperative—to wonder whether or not embattled reef ecosystems can sustain fisheries pressure in addition to all the other stressors they face. Often the heated arguments come down to these two points of contention: 1. Is it possible to harvest live fishes and invertebrates from coral reefs in a sustainable manner? MORE: Marine Aquarium Trade: A Force for Good in Saving Coral Reefs… More:
A coral species new to the main Hawaiian Islands has been discovered in West Hawaii by a research team of the state Department of Land and Natural Resources (DLNR) Division of Aquatic Resources divers, under the leadership of senior biologist Dr. Bill Walsh. While doing reconnaissance SCUBA dives along the Kona coast of the Island of Hawaii, the dive team came across a large number of coral colonies, which none of the researchers had ever seen before.
These robust finger-like colonies didn't even look like they were related to any other corals in the vicinity of the main islands. After returning the next day and photographically documenting the colonies, the coral was tentatively identified as Acropora gemmifera. Not only is this the first record of Acropora gemmifera in the main Hawaiian Islands, it's the first record of any Acropora species occurring around the island of Hawaii. Read more here!… More:
The sea sponge is about as simple as an animal can get, but its associated bacterial community—its microbiome —is known to approach the complexity of the diverse microbiome in the human gut.
 Now, scientists at the Marine Biological Laboratory (MBL) have shown that different species of Hexadella sponges each have a highly specific and stable microbiome, not only in terms of the most abundant members of the associated microbial community, but the rare members as well. They published their results recently in the International Society for Microbial Ecology (ISME) Journal. "When we looked at what microbial community occurred in a species of sponge, we always found the same community, no matter where geographically and at which depth the sponge [lived]," says lead author Julie Reveillaud, a postdoctoral associate in the MBL's Bay Paul Center. Read more here!… More:
Mantis shrimp have got to be one of the most interesting of all reef organisms indeed new discoveries about these fascinating creatures seem to happen on an almost daily basis. Further to recent research that indicates they use similar 'scanning' eye movements to primates, a different team of researchers, this time from University of Queensland in Brisbane, Australia, have suggested that stomatopods combine these scanning eye movements with a previously unknown colour vision system. Read the abstract in the journal Science More: Video: Mantis Colour Vision Makes Aliens Look Tame… More:
Captive-bred yellow tangs (Zebrasoma flavescens) may be coming to an aquarium near you. That's the reality thanks to the efforts of the Oceanic Institute of Hawai'i Pacific University (OI-PHU), who announced Friday that their groundbreaking research to breed yellow tangs has gotten a much needed infusion of cash…$75,000 to be exact. The funding comes from multiple sources, with the Hawaiʻi Community Foundation and the Hawaiʻi Tourism Authority making up the bulk of that with their $35,000 donation. The Sea World/Busch Gardens Conservation Fund contributed $8,000 and the Oceanic Institute provided $32,000 worth of in-kind support. It is said that the funding will support a year long project which has the goal to bring the current level of yellow tang breeding up to the point that the research team can have its first ever captive rearing of the species. As part of the announcement, the OI-HPU also highlighted the fact that research scientist Chatham K. Callan, Ph.D., has lead the way with yellow tang breakthroughs when he discovered "breeding techniques that allow them to culture viable eggs in significant quantities and successfully rear the resulting larvae through their critical first few weeks of life." As part of this joyous announcement, Callan will be speaking to the Science Pub-Hawai'i tomorrow, January 27th. If you would like to read more about this ambitious work, be sure to visit: "OI-HPU yellow tang research gets boost from multiple funders" Story via MARSHReef MORE: Yellow Tang Captive Breeding Program Gets Big Funding Boost… More: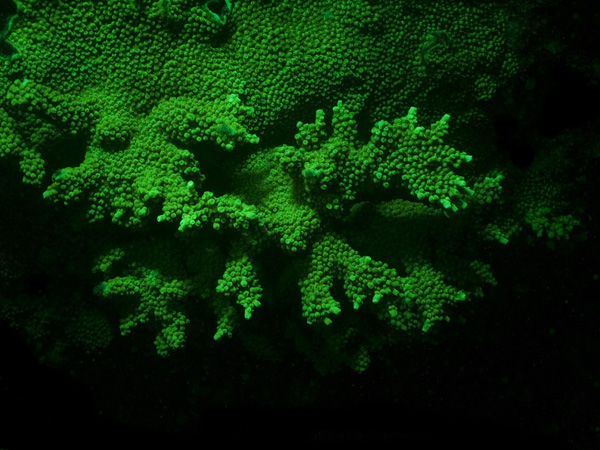 Seen above is a fluorescence photograph of an ultra rare hybrid staghorn coral (Acropora prolifera) living in Miami's Government Cut waterway. Colin first introduced this coral to the world at TEDxMIA in 2011. Now the Army Corps of Engineers' "Deep Dredge" project to expand Miami's port capabilities will necessitate the evacuation of this and thousands of other corals before their habitat is dynamited. It is Coral Morphologic's mission to rescue them. More: 'Miami Coral Rescue' Talk at the University of Miami… More:
Ocean researchers working on the coral reefs of Palau in 2011 and 2012 made two unexpected discoveries that could provide insight into corals' resistance and resilience to ocean acidification, and aid in the creation of a plan to protect them. The team collected water samples at nine points along a transect that stretched from the open ocean, across the barrier reef, into the lagoon and then into the bays and inlets around the Rock Islands of Palau, in the western Pacific Ocean. With each location they found that the seawater became increasingly acidic as they moved toward land.
"When we first plotted up those data, we were shocked," said lead author Kathryn Shamberger, then a postdoctoral scholar at Woods Hole Oceanographic Institution (WHOI) and a chemical oceanographer. "We had no idea the level of acidification we would find. We're looking at reefs today that have levels that we expect for the open ocean in that region by the end of the century." Read more here!… More:
New research has found a type of coral reef called Octocorals, previously thought to have diminished off the East Coast of the US in the Gulf of Maine, has been recently discovered surviving in dense coral garden communities in more than one location. The paper 'Octocoral gardens in the Gulf of Maine (NW Atlantic), by Peter Auster et al, published in Biodiversity, studied Octocorals, a type of fragile deep-sea coral reef that grow and reproduce at very slow rates. 
Photo credit: NOAA   Octocorals used to be a common part of seafloor fauna in the Gulf of Maine. However, based on past accounts of where corals had been found, it had appeared that a century of fishing with bottom contact gear had reduced their distribution to just a small habitable area.Read more here!… More: